May 5, 2019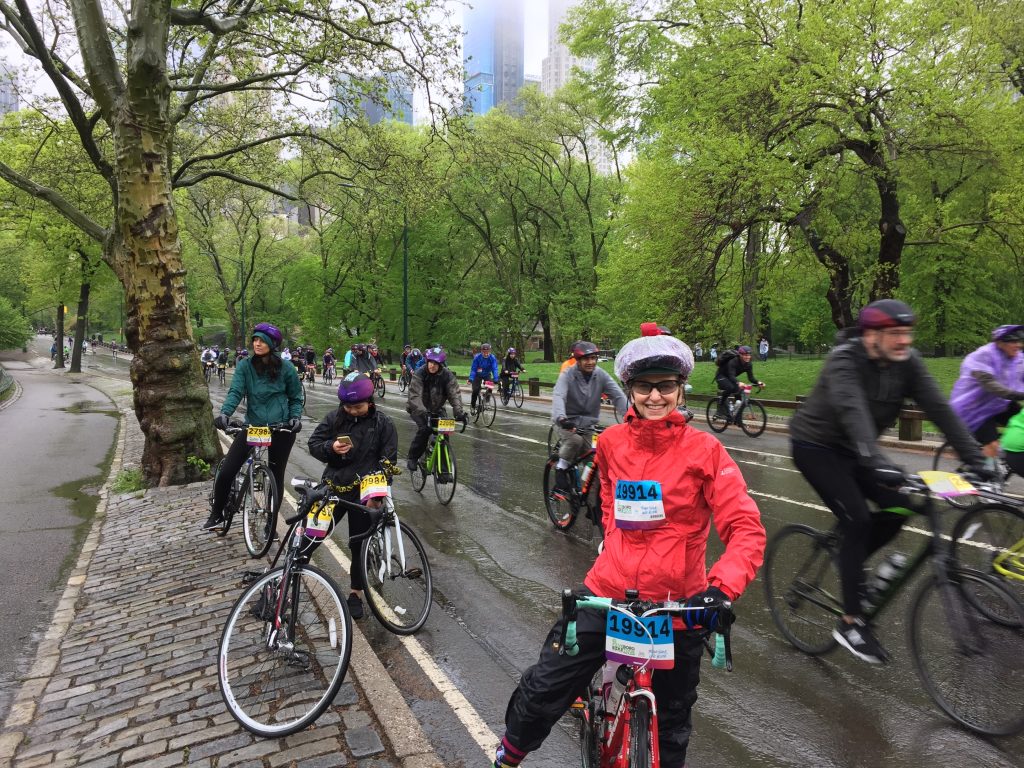 I've wanted to do the New York Five Boro Bike tour for a number of years, but had been put off by all the details and complications of getting into the city with my bike and gear. This year I was going to plan ahead and do whatever it took to make it happen. I registered way back in November and planned to stay overnight in the Village with my colleague Jayn Rosenfeld. She had done the ride many times and would help with logistics and moral support. She picked up my packet at the NY Bike Expo Friday morning, and I drove in Saturday afternoon and parked at a very expensive garage on 11thstreet. The weather on Saturday was lovely and I enjoyed walking my bike and overnight backpack through the streets of Greenwich Village. Jayn and I had a wonderful and long overdue visit before we each had to set out for evening plans. She and her husband were going to a concert. I met a former student for dinner and then had comps to see the first preview of the new production of Frankie and Johnnyon Broadway. Maybe it was crazy to have a night out before a big biking day, but I had a great time and managed to find my way back to Horatio St. before 11. I actually slept pretty well with Benadryl and ear plugs.
As forecast, Sunday morning it was raining, and it rained pretty steadily all day. My biking friend Muffin had told me what rain gear to wear, but even with waterproof pants, a new rain jacket from EMS and a shower cap over my helmet, I got wet fairly quickly, and stayed wet all day. Luckily it was not windy, or too cold, in the high 50s, so I was not terribly uncomfortable, but it probably kept away many of the 30,000 riders who were supposed to participate. Jayn decided to start a half hour later than we were scheduled, to avoid the heaviest rain, but I ended up not riding with her and her friends and family. It was easier not to keep track of a group through the crowds, and they ultimately decided to take the subway home from Queens when they got too cold and wet.
I rode alone as I have in many other biking events, but I was surrounded by people and had a fantastic time. Everyone was very friendly and considerate, and I heard many different languages being spoken all around me. There were old people and young people, fit people and not so fit people, high end bikes and neoprene gear and clunky bikes and makeshift gear. It was a typical New York showing of the whole range of humanity. The support staff and volunteers were impressive: even in the rain, bands played along the route, cheering squads urged us on, and volunteers with bull horns alerted us to sharp turns or slippery curves and hills as we made our way along. It was a thrill to ride up 6thAvenue past Macy's and Radio City, through Central Park, across a number of famous bridges, around neighborhoods in Queens and Brooklyn I had never seen, and even on the BQE highway, all with no cars!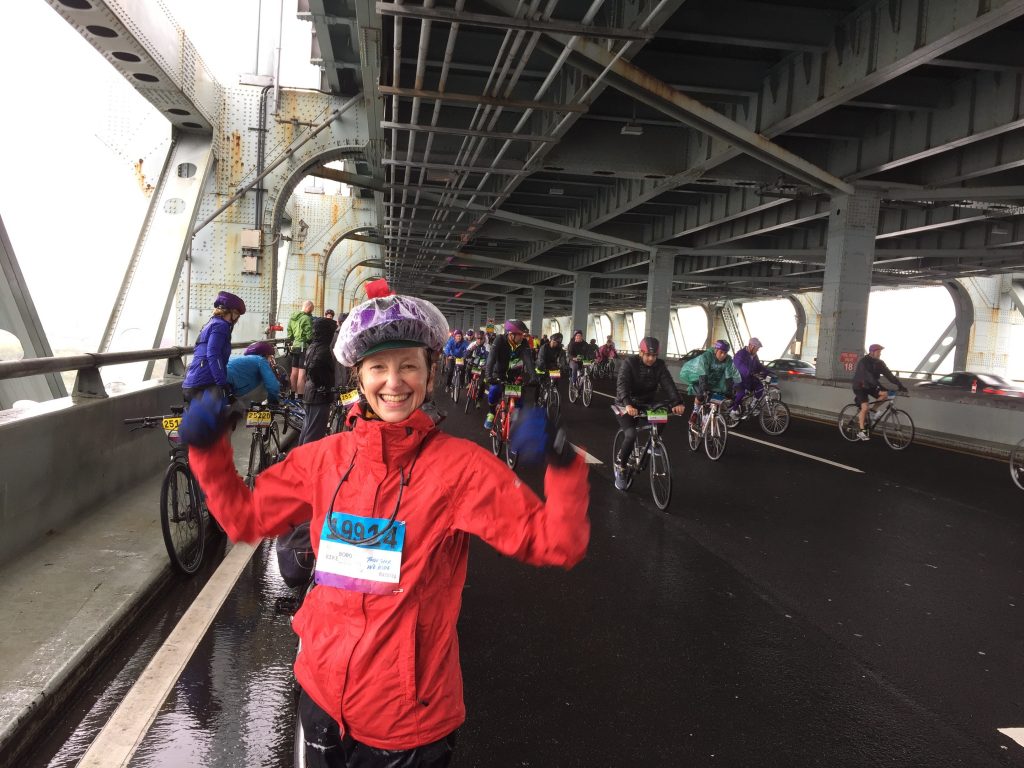 The first rest stop at mile 15 was a zoo with hundreds of port-a-potties. The next one was much less busy and I helped myself to a banana and dried fruit treats to keep my energy up. I felt strong and triumphant as I sailed over the Verrazano Bridge and into the finish festival at mile 40. Trying to pull my wet gloves and bike shorts back on after the port-a-potty was not fun, however, and wading across a mud swamp with my bike and thousands of others to get to the exit was one of the low points of the day. It was windy on the road to the Staten Island Ferry, and the traditional treat of ice cream as we neared the terminal was not quite what I was wanting. I eagerly gobbled up the sugar as I waited in line to board nevertheless. The mood on the ferry was pretty quiet: everyone was cold, wet and tired, yet happy to be out of the elements. I was charging my phone on the lower level and didn't see any views of Manhattan as we approached, but the whole city was in a cloud of fog so I didn't miss much.
Fellow cyclists helped me find the West Side Bike Path as I disembarked and it was only a few miles north to get to 11thStreet and Jayn's apartment. The bike path was deserted and wonderful to ride on, but it was a bit unpleasant to go back out into the rain after the respite of the ferry. Finally back at Horatio Street, I stood in a hot shower for a long time and then traded stories of the day with Jayn and her friends. I didn't stay for dinner, but walked back to the parking garage where my car was waiting for me. The rain had finally stopped and I had an easy drive home. I rode 47 mile total for the day and had the most wonderful time, even in the rain!