June 8, 2016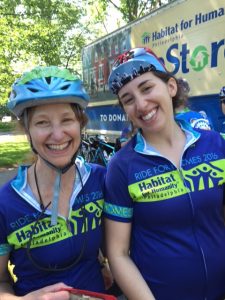 After mom's final months last winter and spring, I had volunteered as SAG support for the Philly Habitat for Humanity's Ride For Homes. I enjoyed being with everyone, but I wished I could be on my bike instead of in the van. This year, I committed to do the ride myself, and raise money for the wonderful work that Habitat Philly does in the community. Emily would be riding again for the third time and I looked forward to sharing this experience with her once again. I actually started training last summer and fall, and since the weather had been mild, I road almost once a week all through the winter. After tagging along with my friends Edith and Tom Williams on some Morris Area Freewheelers rides, Muffin, as she is known to all her friends, convinced me to join the club. So starting in December, I went on club rides with the D+ and C riders whenever the schedule and weather permitted.
After I got back from FR, I started training in earnest, riding two and three times a week all through April and May. Sometimes I went out by myself on my favorite routes up and down Sourland Mountain, sometimes I joined Muffin and Tom for challenging rides in their area, and sometimes I went on club rides, trying to keep up with the stronger faster riders. Everyone urged me to get clip on biking shoes – or clippless shoes, as they are called – but I was reluctant. I was concerned about riding with a group, starting and stopping in a crowd of riders, keeping up with everyone, following the cue sheet and other technical issues. I didn't want to be worried about clipping in and out of my shoes and possibly falling. So I was working harder in my day hikers, but I liked climbing and my legs and lungs were getting stronger. By June 2 I was as ready as I could be. The longest ride I had done was 55 miles. Who knew how I would feel for the last 20 miles of our first 77 mile day, or the 60 mile days after that?
The night before the ride, I stayed over in Philly at an apartment a few blocks away from Emily that Kate's parents were refurbishing. Too excited, too hot, and too nervous, I didn't sleep much, though at this point I had done longer rides after not much sleep. It was a bit chaotic and hurried getting ready to go Thursday morning, but we stowed our luggage on the ReStore truck, greeted old and new friends, got cue sheets, locked the car and set out from Chestnut Hill by 9:30 am bound for the Delaware Water Gap and back, roughly 250 miles in four days. I ambitiously chose to ride with the B group, but after 15 miles through city suburbs, our leaders decided that 18 people was too large a group and we split into two smaller sub-groups. Emily and Kate went with the front pack and I settled into a comfortable grove with the B2 group.
Long story short, I felt great on my bike, kept up with my group with little problem, loved re-connecting with Emily at most rest stops, and at the end of the day, enjoyed chatting or not with members of the B2 group and felt generally stronger and stronger as the four days went along. Friday, day 2 it was cool and rainy, Saturday, day 3 it was hot and sticky, but it didn't really matter – once you got wet with rain or sweat you were wet and stayed that way. The routes were beautiful and varied. We usually got lost at least once a day, but managed to find our way to where we needed to go. The overnight accommodations were fine, two hotels and one college dorm. The evening meals were filled with Habitat stories both moving and inspiring.
I sent my group of supporters email updates most evenings. I had told my Sangha friends that this would be like a meditation retreat: find a comfortable seat on your bike, pay attention to changing conditions on the road, stay with the ups and downs of the day, more effort on the uphills, relax and coast on the downhills, but don't get too excited and fall down, watch out for traffic and pot holes, and be kind and considerate to your fellow riders. Emily had assured me that the energy and power of the group would carry me though the challenges of the ride. This was certainly true. Of course everyone had their difficult moments. Emily actually had the remains of a cold and felt pretty crummy one day. At the end of day 2 in rainy Stroudsburg, I though I might be getting a sore throat and got in bed for the afternoon, declining the optional trip to Bushkill Falls. Emily and I both felt better the next day. The Pocono Mountains around Jim Thorp, PA were beautiful and fun to ride, and we made it back to Philly on day 4 before strong thunder storms drenched the roads. Unfortunately, a touch of food poisoning added to my feeling totally trashed on Monday, but once I recovered I felt incredibly proud that I had accomplished a great physical challenge and supported a wonderful organization along the way.