February 5, 2017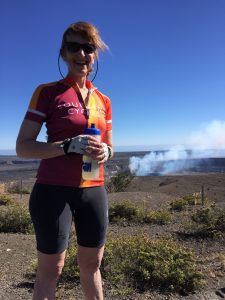 It was intercession and Michael was taking the orchestra on tour to Prague, Vienna and Budapest, again – all different students, so it is a new experience for them, and Michael never tires of showing them those beloved musical capitals. I chose to go in the opposite direction and have a vacation on a beach with my sister and treat myself to another Backroads bike trip. (The picture is taken up at Kilauea Volcano.) I flew direct from Newark to Honalulu and then onto Kona on the Big Island where I met Suzanne who flew in from LA. We spent four relaxing days at the Marriott Beach Resort in Waikaloa where we lounged on the sandy beach, walked on the rocky shore path, ate some wonderful seafood and whale watched. I swam in the ocean and shopped. Unfortunately, Susanne was beset by a bit of respiratory illness, either from the plane or more likely from the vog, the sulfur gas coming from the volcano, but we had an enjoyable time visiting together nonetheless.
She went back to LA and I joined a six day Backroads multi-sport trip that included plenty of biking as well as hiking, sea kayaking and snorkeling. We saw the whole island which was surprisingly undeveloped and included ten different ecosystems from tropical beaches to volcanic deserts, Alpine meadows, farmland, cattle pastures and rain forests. We had all kinds of weather as well, from torrential downpour on the rainy side of the island, to brisk wind up at 4000 feet at the volcano, to warm and sunny on the beach side of the Island. All the different flora and fauna was beautiful and Kilauea volcano was amazing. The guides on the trip were wonderful, attentive and supportive, charming and interesting. The group of active travelers was pleasant company. I arranged to share my accommodations with a roommate who ended up being from NJ. She was a National Park Ranger who works at Ellis Island and the Statue of Liberty and she invited me to let her know when I wanted to visit those sites. How cool! But unfortunately, she fell and broke her elbow and went home early. It was terrible that she had to miss the last few days of the trip, but I had the luxurious room at the Fairmont Orchid all to myself.
Michael and I were in time zones ten hours apart and it was funny talking on the phone while I was watching a sea turtle sunning on the black sand beach and he was having a drink in a pub after his concert in snowy, cold eastern Europe. His tour went relatively smoothly thanks to a lot of help from Henry Valoris, and the concerts were a big success. I didn't want to come home from Paradise where I got to bask in natural beauty and take a well needed break from news of the troubled world.