March 25, 2018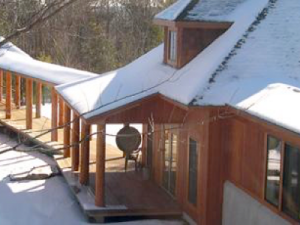 Last September I had to cancel ten days at Forest Refuge so I could be with Michael as we waited for more test results. Luckily the MRI showed that a suspicious something was nothing, and I rebooked my retreat for spring break. Too bad that was exactly when Michael would receive his honorary membership at the Royal Conservatory of Music in London from their president, HRH the Prince of Wales. His sister Sue and sister- in-law Joyce joined him in London for the ceremony and celebration while I got ready to go to Barre. It was a thrill for all of them and a welcome distraction for Joyce on the year anniversary of Ev's death. I was sorry to miss it, but I had some wonderful alone time at home before my retreat.
A storm had dropped over 12 inches of new snow on Barre a few days before I got there. The roads were dry, the sky was blue, and the trails in the woods were a blanket of virgin white. I settled into a blissful open awareness pretty quickly and enjoyed wonderful sittings in the hall and even more wonderful stomping around in the cold, clear woods.
There were about twenty-five of us on retreat, including several monastics, a younger monk, and two older nuns. I loved watching the care and devotion of one of the nuns as she did her bows in the hall and led the morning chanting. One afternoon I walked in one of the larger walking rooms as the glowing sun spilled in through the windows. The young monk was walking in there as well and I bathed in the beautiful afternoon light and quiet energy of shared practice. Then a thought drifted into my head: "Oh, what if the monk and I are not supposed to be walking together? I think there may be special rules for monastics about men and women interacting, but I'm not sure. Yikes what should I do – stay or go???" OK, I was now in the midst of a full-blown mind state. Watch it swirl, feel it in the body, don't react, but rather respond. As I walked I stayed with the rise and fall of thoughts and emotions until they wound down. Once the storm had passed, I left the walking room and went back to the hall to sit.
At my interview with Rebecca Bradshaw the next day, I recounted the episode and asked her about the monastic code. She said she wasn't exactly sure since there were so many different monastic orders with so many different rules. She thought if the door was open it was probably fine and told me not to worry about it. But, if it causes a stir, maybe better to just walk somewhere else? Sounds sensible enough. The next day, I found that same walking room empty, the lovely afternoon light beckoning me in, so I settled in for some slow walking with the door open. I'm not sure how much later it was, but the young monk arrived for his afternoon walking practice. To my horror, he shut the door when he came in. Yikes, now what? I propped the door open and continued walking, again observing a swirling mind state as it rose and fell. Hummm, the crazy things that happen on retreat, and so interesting to watch them all play out by resting in mindful awareness!
Sensibly, and not out of aversion, I walked in other places for the rest of the retreat. One beautiful afternoon walking in the woods, feeling concentrated and energetic, joyful and tranquil, mindful and equanimous, I was curious how the quality of knowing would interact with the mind's capacity to reflect whatever it came upon. For a moment, I saw a mirror reflecting a mirror in an infinity of empty reflection. Whoa, cool. When I got home and described this to Michael, he said that Ikkyu, the great 15thcentury Zen master and poet, had written lines about this: "Mirror facing mirror, nothing else." Wow!!! Throwing snowballs at tree trunks, whoosh, plop.