May 22, 2021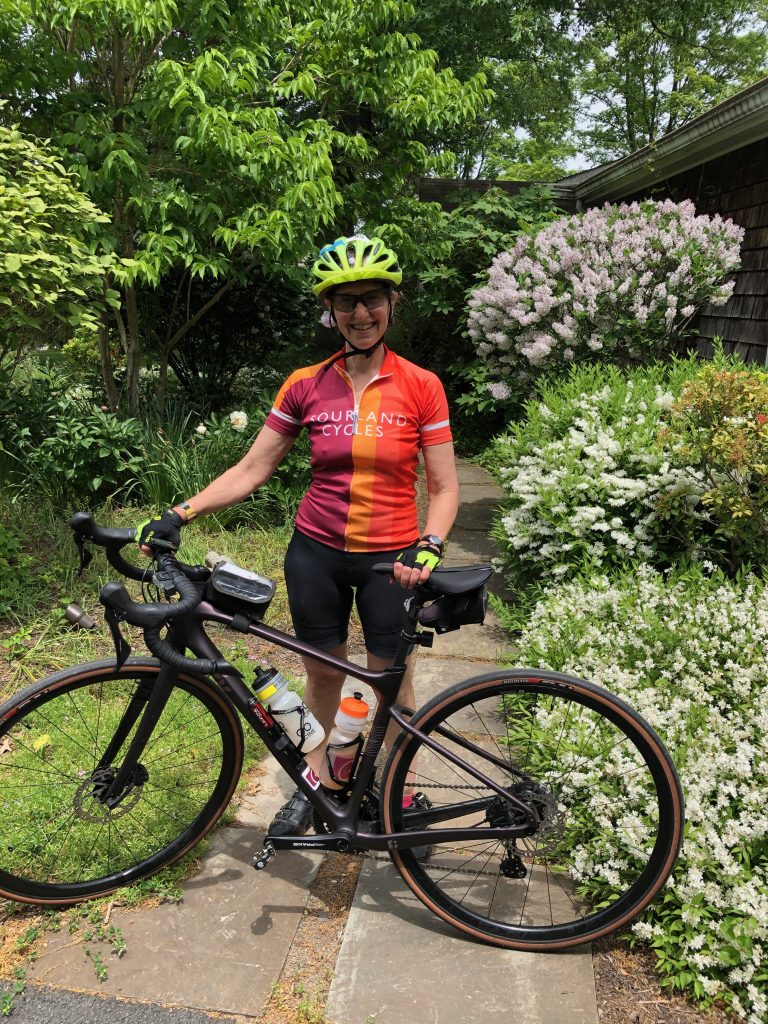 Last year was a major birthday for me. We had planned a fabulous trip to Greece, and I thought I would buy myself a new road bike as well to celebrate. Alas, all of that got postponed because of the pandemic. Now a year later I am very hesitant to plan any major traveling, but just for fun I did stop by my local bike shops to see what kinds of bikes might be available. COVID restrictions had made cycling a hugely popular activity and there was a world-wide bike shortage to go with the world-wide virus. At the Trek shop in Princeton the very nice lady gave me a sad smile and shook her head, "all the bikes are spoken for until January of 2023." At Halter's in Montgomery Shopping Center, the owner rolled out a beautiful lilac Cannondale supersix – evo in my size, "this is the perfect bike for you, but you have to buy it today or someone else will." That was way too much pressure after the simple, slow life of lockdown. At Sourland Cycles in Hopewell, they had a floor model of a road bike that I could take for a test ride. It wasn't my size, it wasn't really an upgrade from my beloved Bianchi, but they did have a bike on a truck coming in about a week that wasn't reserved and might be of interest to me. Ok, I took the Giant brand women's model out for a spin and liked the disc brakes and wider tires. Sure, I'll put a refundable deposit on the bike that's coming and take it for a test ride before anyone else nabs it.
It was a LIV Devote carbon gravel bike, and I spent the waiting days asking my bike friends about it and doing research online. A gravel bike can go everywhere a road bike can and more. If I get two sets of wheels, I can have one set with road tires and another set with wider, knobbier gravel tires for off road adventures. Many of my friends have been talking about gravel riding, and Emily's bike friends said more people are getting "gravel curious." I was tempted to take the Cannondale at Halter's for a test ride but had no idea if it was still there after several days, and I really didn't want to deal with the hard sell pressure. Finally, just about a week later, Sourland called to say my bike was in and they would hold it for me until I could come in for a test ride. The day I had free was beautiful weather, sunny and warm but not too hot or windy. I wore my Sourland Cycles shirt and brought my shoes and lights. I really asked a lot of the bike, going up and down the mountain on all my favorite hills, including some sections of gravel road on Stony Brook and Aunt Molly that I'd never ridden. After 25 miles I felt very comfortable on the carbon frame and really enjoyed the smooth brakes, solid tires and extra low gearing. My ride with GPS said my speed was quite zippy as well. OK I'll take it!
Now we had to pick accessories, road tires, a mirror, a pump, bottle cages, a computer. They would set everything up and I could pick up the bike later. The shop was crazy busy by now and I had to get home for lunch and various appointments. I reluctantly let Sam talk me into tubeless tires. Unfortunately, or maybe fortunately, the goo didn't set properly and I had to take the bike back two days later and persuade them that I really preferred regular tube tires. Luckily, I didn't take it on a long ride in Bucks County the next day. This was my first ride back with my bike club, and what with the overwhelm of lots of people and hugging and chatting, I was glad I didn't have to worry about getting used to a new bike as well. The first long ride I took it on by myself was great. The bike felt zippy and responsive. I loved the disc brakes and wide road tires, my body felt mostly comfortable with the geometry, I may get used to the saddle, or try some alternatives. I took it on the second club ride of the season and everyone oohed and aahhed over it. I felt pretty fast as well and set my best average speed in a long time. Michael called it the Batmobile with its shimmering dark purple mat finish. I think I'll use the name of the paint color, Rosewood. May I ride it in safety and good health for many years! Happy Belated 60th Birthday.