I have three main areas of teaching: undergraduates and graduate students at Princeton University, adults in my private studio in my home in Skillman, and students of mindfulness meditation at Princeton Insight Meditation and at Princeton Center for Yoga and Health. The teaching of voice lessons and mindfulness complement each other beautifully and help immeasurably in my own practice.
Princeton University
I have been teaching at Princeton University since 1985. I have taught private studio lessons, master classes, and courses in German Lieder, Baroque Chamber Music and 20th Century Musical Theater, as well as coaching recital, opera, chamber music and musical theatre repertoire. My former Princeton students have gone on to graduate study in voice and choral conducting at The Manhattan School of Music, The New England Conservatory, The Royal Academy and Royal College of Music in London. They have performed as soloists with the New York City Opera National Touring Company, the Czech Philharmonic in Carnegie Hall, the American Opera Festival in Rome, and Off Broadway, and hold choral conducting positions at Harvard, Boston University School of Music and elsewhere. I have taught workshops and masterclasses for NATS at their National Convention in Nashville, at their Winter Workshop in Atlanta in 2010, at local chapters up and down the East Coast, and at the ICVT in Brisbane, Australia in July 2013. I have also taught masterclasses for New Jersey Opera Theatre, Princeton Pro Musica and at Smith College and Brown University. where I was a special guest of their Contemplative Studies Initiative, teaching about singing and mindfulness. At Princeton, I have offered workshops for the Mindful Musician.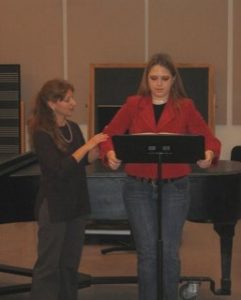 I love helping my more advanced students prepare for performances, be it a concert, or stage production. The challenge of picking and learning repertoire, from a wide variety of periods and styles, and polishing it with finishing touches is always rewarding. I believe acting is a fundamental part of a singer's craft. It is not only crucial in making interpretive decisions, but it can also help solve vocal difficulties, ultimately freeing the singer to communicate more easily and fully, be it in an opera aria, a Schubert song or a jazz standard.

I also love teaching beginners and seeing the first glimpses of awareness as students recognize and become familiar with the subtle internal physical sensations of breathing and vocalizing. The calm focus that develops from a mindful attention to the breath and body can be invaluable to students beyond the realm of singing. A student of meditation since 1980. I try to bring what I have learned from Zen and Vipassana to my own singing and teaching. I have seen both my undergraduate and adult students benefit immeasurably from this kind of approach.

Private Studio
I offer private voice lessons in my home, five miles north of Princeton, NJ, in a patient and supportive environment. My students range from classical choral singers, to jazz, musical theatre, folk, pop and kirtan singers. They have a wide range of musical backgrounds and musicianship skills. Most of my students are adults, and though I have less experience working with teenagers, I have helped many HS students prepare for college auditions. I meet each student wherever you are in terms of experience, interest and ability, and help you feel more comfortable and confident about singing whatever music you love. I start with basic posture, breathing and speaking exercises, to help you become familiar with the body's natural ability to breath and make sound. I combine my interest in mindfulness meditation and yoga to help you develop more refined attention and body awareness so you can notice what you are doing and feel it from the inside out. I am also an enthusiastic athlete, having played tennis and studied ballet for many years, and now I am an avid cyclist. I like to approach voice lessons as athletic training, helping you develop muscular strength and coordination. The best part is, of course, the music, and I love helping you find a genuine expressiveness that is appropriate to whatever style of music we are working on.
Students come for weekly lessons, or periodically depending on availability. Please contact me if you are interested in having lessons. I look forward to seeing you. melliott261@gmail.com
Mindfulness
I am reluctant to call myself a meditation teacher. Meditation has been a part of my life and practice since I was in college and first learned "relaxation for performers" from my voice teacher at the Aspen Music Festival. I have since studied and practiced in both the Zen and Vipassana traditions, attending retreats at the Insight Meditation Society, Spirit Rock, and the Rochester Zen Center. I have also completed a year long Intensive Study and Practice Program at the Barre Center for Buddhist Studies, and am committed to continuing to explore and learn more. I feel very fortunate to be able to share what I have learned with my private voice students as well as with the community of Princeton Insight Meditation, and new comers at the Princeton Center for Yoga and Health.