Sunday, November 18, 2012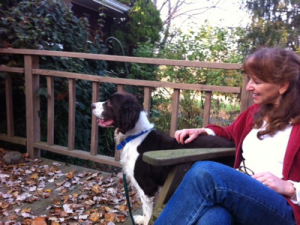 Here is Hugo, our new rescue dog, his first day in his new home on Opossum Road. We picked him up on October 24th, in Aston, PA from a foster home in the Mid-Atlantic English Springer Spaniel Rescue system. He was found poking in an ally in Lancaster, PA and taken in by MAESSR – a very impressive organization all around!. They think he is two years old, but no one really knows what his history is. It seems from his house training and gentlemanly inside manners that he was clearly someone's dog, but whether he escaped or was turned away will remain a mystery. He is very sweet and loves to be with his humans, but he is a much bigger, stronger dog than we are used to having. When he gets excited he is a lot of dog to handle!
He was a wonderful comfort during hurricane Sandy. He didn't seem concerned or bothered by the wind and rain. He had only been with us for a few "regular" days when we moved into "camping" mode with no power, the loud noise of all the neighborhood generators, flashlights, candles, fires in the fireplace, visits to Grandma and Grandpa's, and constant human companionship – in short, dog heaven! We took advantage of the lost week and did a lot of training, bonding, and getting to know each other. We even ventured into Princeton and introduced him to Woolworth. Hopefully he will learn to come to work with us and settle down near us during rehearsals and teaching. We'll see.
Now that he has been with us for almost a month, he seems like part of the family. He loves riding in the car – though getting in and out still needs a bit of work. He loves the tow path, the dog park and all the different nature trails we have explored together. He is a wonderful walking companion, though we still have to work on not lunging at bikers and runners. He is very smart and eager to please, and we will continue to train him and maybe find an obedience class after the holidays.
He is so different than Thisbe in energy, breed temperament and personality. I find myself about to call him Thisbe on occasion, instead of his Strauss/Ariadne/Bourgeois Gentilhomme/Hugo von Hofmannsthal inspired name. (Michael has been working on a production of the play with the Strauss incidental music.) He almost makes me miss Thisbe more, but it is truly wonderful to have dog love in the house again.