Thursday, July 26, 2012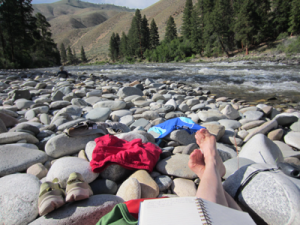 There I am, sunning on some rocks, somewhere in the Frank Church River of No Return Wilderness, writing in my travel journal as my wet clothes dry, watching the Middle Fork of the Salmon River flow by and by. Michael and I flew to Boise, and drove three hours into the mountains to arrive in the tiny town of Stanley, Idaho, nestled at the foot of the magnificent Sawtooth Mountain range. From there, the Hughes River Expedition team drove us three more hours into the wilderness for a float trip down 100 miles of amazing white water rapids, spectacular scenery and world class fishing.
I had seen the Hughes trip listed in the Nature Conservancy Magazine. We picked a week that suited us and went on one of their regular trips of the season. The guides were fantastic, and we became very fond of them as we got to know about their Idaho backgrounds and love of the river. The other folks on our trip were a great bunch including a 3 generation family from Texas, several sister and brother collections, and a few couples celebrating special events. We all enjoyed each others company as we shared five star camping, delicious food, much silly carousing, and of course our adventure on the river.
Riding along in one of the guide-led boats was relaxing, but unfortunately the fishing was not so great because of some unusually cloudy water after a big rain storm. You could chat and visit, or just sit quietly and watch the magnificent, ever changing view as it floated by. Michael and I got to love the paddle boat because you could engage with the rapids more directly. Each guide had their own way of commanding the paddlers through the roller-coster ride of white water. Of course the particular combination of paddlers on a given day impacted how we managed the rapids, much like the chemistry of a chamber music group.The guides were patient and encouraging no matter how we did.
The week started off cold and wet at higher altitude, but became hot and sunny as we descended 3000 feet into the canyon. The stars at night were incredible, and the sound of the river was ever present and cleansing. Highlights included jumping off a 12 foot cliff into the river, trying to keep up with Amy – it was so cold it took my breath away; wiping out of my inflatable kayak in a class III rapid and being rescued by Joel and Katherine – thankfully I was wearing a wet suit; following Marshall as we boulder climbed our way to the ancient pictographs; a victory dunk in the river, with Amy again, after a game of fris-nock.
When everyone found out I was a singer, they wouldn't stop asking until I sang for them – twice – once at Amy's 40th birthday dinner, and again at the final White Elephant gift exchange. Gershwin, with some adapted lyrics, saved the day! My accompaniment was only wind and water – Michael sang a bit of a "doom, doom" walking bass, and Marshall added some mouth percussion on one tune. Even with "outside voice" everyone seemed to appreciate it.
Seeing a car on the road and other signs of civilization was shocking and sad as we approached the take out on the last day. It was hard to leave our new friends after a week of bonding in the wilderness. Even though this wasn't a silent retreat, in our group photo everyone looked relaxed and scrubbed clean after a week on the river.
Luckily, Michael and I planned to stay in Stanley a few days more to hike and fish. The mountains were spectacular, and we had many great hikes. We definitely got better at casting with Jack's fly rod, but not so good at hooking or catching any fish. Also not fun to get a flat tire along the 10 mile dirt road back from 4th of July Lake hike. A new friend from the trail head helped us put on the spare, but it took a long time, and a lot of equanimity, to get back to Stanley going 5mph! No mechanic in town, no new tires to be had – the folks at the fishing tackle store told us to call Huck, who told us our tire could not be repaired, but assured us the full sized spare would get us through the mountains and back to Boise for our flight the next day. Great, no cell service, no extra spare tire….we drove VERY carefully, and did indeed make it safely back to the airport and home.
What an amazing adventure! What an incredible trip!!!