Sunday, July 14, 2013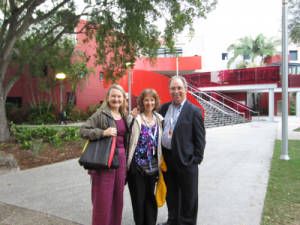 Michael and I are standing in front of Queensland Conservatorium in Brisbane, Australia, with Mimmi Fulmer on the last day of the 8th International Congress of Voice Teachers. More than a year ago, I had been asked to contribute a chapter on ornamenting Classical and Bel Canto arias to a book edited by Scott Harrison, who teaches at the Queensland Conservatorium. He was also involved with hosting the conference, and he suggested that I give a talk on the material from the chapter. I submitted a proposal, it was accepted, and I asked Michael if he wanted to celebrate our 30th Anniversary in Australia. He said, why not! We bought plane tickets and arranged a tourist trip for after the conference – more about that in another blog entry. The whole thing was breathtakingly expensive, but it was our 30th anniversary, and we would have done some other deluxe trip if not to Australia. At least I could deduct some of the expenses for business: a lot of the airfare, hotel, food and conference fees in Brisbane, since I wasn't getting any money from a travel grant or from Princeton.
The conference was fantastic: the opening ceremonies included traditional Australian aboriginal music and dance, a hysterical montage of different singing and teaching styles put on by the wonderful Music Theatre department at the conservatory, plus remarks by some of the star presenters. Some of my favorite moments included a great talk by Ingo Titze, wonderful music theatre masterclasses by Mary Saunders-Barton, and pop masterclasses by Daniel Zangger Borch. I ended up learning a lot about teaching belting, and even had a mini private lesson with Lisa Popeil as we chatted in a hallway one day. Unfortunately, her session on teaching belting was overflowing and closed by the time I tried to get in. There were just too many things too choose from, and you had to miss some things if you went to others.
It was lovely to reconnect with some old friends – Scott and Marcia McCoy, Susanne Draayer, Kevin MacMillan, from other NATS events, Mimmi Fulmer, a Princeton alum, and Rowena Cowley from Sydney, whom I had met several years before at a conference in the U.K. I wondered if I would run into "that nice lady from Australia," and there she was, the president of ANATS. It was also fun to chat informally with Ingo Titze, Daniel Borch, and others over coffee and delicious cakes, and make new friends, including Kathryn Duax, the new president of NATS. She had been sitting across the isle on our 14 hour flight from LA and we met and had a groggy conversation as we waited in line for passport control. I also spent time with Treniece Robinson Martin, who had been leading the Jazz Vocal Collective at Princeton in the fall. I had to come all the way to Australia to meet her and hang out – ha!
Interestingly, I tried to talk to lots of "older looking" women about their experiences with singing through menopause. More often than not it was a total conversation stopper, especially in a group of mixed company. I had better luck in private conversations, after establishing some intimacy and comfort in another setting. Lots of women I talked to were taking hormones and their voices felt just fine. Wow -that was not even an option I had ever considered! I went to several sessions devoted to the "older singer." Some were informative and helpful, others not really. Allan Henderson suggested I put together a survey for the NATS website. I've been thinking about doing something along those lines, so it was good to get some encouragement.
Michael came to the conference on Saturday and Sunday, after entertaining himself in Brisbane earlier in the week. My talk was on Saturday, and after worrying about having all the right tech, and preparing multiple versions and back-up plans, everything ended up going smoothly. I had the powerpoint slides on a memory stick which I plugged into a MAC laptop in the room. I had my music examples on an iPod nano and plugged that into the sound system. The talk, which was a shorter version of a talk I had done for the NATS winter workshop in Atlanta, was well attended and everyone seemed to enjoy it. Once again, it was gratifying to meet people who knew me and had used Singing in Style for teaching or research. On Sunday we went to Mimmi's wonderful lecture/recital on Nordic Song and then out for a beer and some great Princeton reminiscing and heartfelt conversation.
I did indeed get overstimulated and overwhelmed by all the input and talking, but overall, I think I learned a tremendous amount, and feel energized and invigorated about teaching singing. That's what these conferences are supposed to do, after all, and this one was hugely successful!