September 26, 2016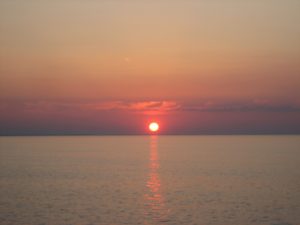 It was Fathers' Day back in June and tic season was in full swing. Michael was taking a tic off his chest and checking for others when he noticed a small hard lump near his right nipple. What is this!!!!???? The next day he went right to his Dr. who calmly said he should probably have it taken out, and recommended several surgeons – seemed straight-forward and simple enough. Well, it was far from that simple. It took several weeks to get an appointment with the well-known Breast Cancer surgeon, and of course her office wanted an ultra sound and then a biopsy. Meanwhile, Michael's older brother, Ev, was having his own physical problems and was in and out of the hospital with gastro-intestinal troubles. With-in two weeks, they both got cancer diagnoses. Michael's was a stage 1, grade 1, small, slow growing tumor, caught early, probably hadn't spread, no big deal. Ev, on the other hand, possibly had pancreatic cancer, which is what killed his father at just the age he was now, a much, much bigger deal. Both together – definitely a very big deal.
In the middle of all this Michael had a fly-fishing trip to Montana planned with his friend Jack in the last week of June. I did a sort of self retreat at home while he was away. He had a hard time enjoying himself with both his and his brothers' prognosis hanging over him. Jack and I both tried to encourage him to let the natural beauty of the river landscape sooth his troubled thoughts. That proved harder than it sounded. Luckily we already had a trip to Chicago planned for the first week in July, so I could present some of my menopause research at the NATS conference. Ev was out of the hospital by then and feeling pretty normal that weekend. I did voice teacher stuff at the Marriott down town, while Michael got to spend a low-key weekend with his brother and sister at the house in Crystal Lake. After many tests and consultations in the weeks that followed, Ev had the Whipple procedure towards the end of July. Thankfully, it went extremely well and his doctors were pleased with the outcome. It was major surgery though, and he would have a long and tough recovery, and then chemo and radiation.
Meanwhile, Michael had his diagnosis consultation with his surgeon. We're in the Breast Cancer Machine now, a place I hoped I would never have to be. In reality, everyone in Rachel Dultzs' office was wonderful and the Breast Cancer Machine was indeed impressive. But the beoved Dr. was going to be on vacation in Nantucket the same week we had planned to be on Martha's Vineyard. OK, we'll schedule you for Aug 7 when we both get back. But we also have a week planned in Maine with some friends. Should we cancel it? Oh, no, one more week won't make any difference – go on your vacation and enjoy yourself and we'll do the surgery when you get back. Go on vacation, one thing, enjoy yourself, quite another.
We stopped in RI at the Temple Beth-El cemetery on our way to the Fast Ferry from Kingston and saw Michael Dickens and Aunt Isabelle for an informal unveiling of my mom's grave marker. The ferry ride to the Vineyard the next day was fun and we met and talked to Georgia Congressman John Lewis who was spending the week in Oak Bluffs. (The Obamas were also arriving just as we were leaving the next weekend.) Our house in Vineyard Haven was comfortable and in a great location right near a good supermarket. We had no car, and rode clunky bikes everywhere. I enjoyed it, but Michael found it challenging, especially with all the traffic on the roads. I loved the various beaches we went to, and had an especially wonderful long ride to Menemsha by myself one rainy day. Michael tried to be a good sport and have a good time, but his thoughts were distracted with Cancer Land and his heart was not in it. The moving day – ferry from Martha's Vineyard, drive 7 hours to Maine, greet our friends the Corens, and settle in to our new house for the week – was very long and tiring. The traffic on 95 through New England on a Saturday in the summer was miserable, and Michael was very stressed. When I woke up Sunday morning in our beautiful tree house of a bedroom, Michael told me that he hadn't slept at all and now he was in A-Fib. His heart was out of rhythm and my heart trembled for him.
So our week in Maine was punctuated by calls to various doctors, trips to the pharmacy and emergency room, and lots of pulse and blood pressure monitoring. Michael hadn't had any heart arrhythmia for a number of years and wasn't even on a blood thinner any more. Luckily, an old HS friend of his lived nearby and had been an ER doctor in the Ellsworth Hospital. He gave Michael lots of needed info and support and was a delightful and calming presence. The Corens and I rotated who would go hiking in Acadia and who would hang out with Michael. As it worked out, we all had some wonderful visiting time, some great hiking time and many delicious meals together. Michael mostly laid low and hung out at our beautiful bayside house. With his heart now in a-flutter, just walking down to the waters edge left him out of breath.
Back in NJ, his surgery was postponed until August 30. Even with visits to the cardiologist, the two weeks of just waiting were difficult and seemed to last forever. Michael hung out in his "cave" while I worked in the garden and rode my bike. This was a great opportunity to just be present with what is and practice patience, compassion and equanimity; easier for me than for Michael. With election unpleasantness ramping up, Michael's a-flutter morphed into anxiety and a few full-blown panic attacks. He finally went back to his Dr. who sensibly prescribed some anti-anxiety meds. As the date for his surgery approached, the students started arriving back on campus and the start of the semester loomed.
Finally the long awaited day for surgery arrived. It went very well, they got all of the small tumor and only took one lymph node, which seemed to be clear of any pathology. The recovery was easier than expected and Michael and I spent several lovely weeks at home together as I nursed him back to health. Actually it wasn't that different from the whole summer, but his mood and outlook were much improved. A week after the cancer surgery, his cardiologist converted him back to sinus rhythm and he felt even better. He was hugely relieved to have the whole thing behind him, and everyone in the Music Department was extremely helpful at covering some of his beginning of semester duties until he recovered completely. He still had a ways to go to get all his energy back. I'm sure we will both be processing how all this has changed us for some time to come.