January 21, 2017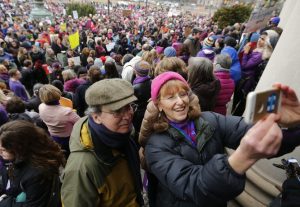 Just as I was taking a picture of Michael and me, standing on the top step at the Trenton War Memorial with 2000 folks inside and 4000 more spread out below us, a photographer from the Newark Star Ledger snapped this shot of us – a not-selfie! What a wonderful day it was to share all the outrage, heartbreak, frustration and desire for action that so many of us have been feeling since election day with a crowd of like minded souls. How gratifying to see all the other marches in cities all over the world and know that so many people want to stand up to hate and fear and bigotry and take some kind of positive action. Michael had wanted to go to Washington but decided that it might be too demanding a day for him. When we found out about the Trenton event we decided it would be better for us both to join in closer to home. What a good decision: we cried when the Gay Men's Chorus of New Jersey sang the national anthem, we cheered when congresswoman Bonnie Watson Coleman urged us to get involved, and our hearts opened when we heard local HS students speak about why this march was important to them.
Unlike the reports from friends who had marched in DC or NY or Philly and couldn't hear the speeches because they were too far away from the loud speakers, or couldn't move for hours because they were crammed in a crowd, we could easily hear the varied program of presentations, we marched comfortably from the War Memorial to the State House, and had no trouble leaving when we had enough. Watching all the other events unfold on the news throughout the afternoon felt so much more uplifting than the past weeks of watching the slow trainwreck approaching inauguration day. It was amazing to hear the thoughts in my head and the emotions in my heart articulated by so many with such conviction and dedication. Now we have to keep up this inspiring momentum and find the right ways to take meaningful action.
Lately at Learning Ally, I have been reading in a history text book about various emperors in Ancient Rome, Mongol Kings and Japanese Shoguns. Yes, good and bad leaders come and go, civilizations rise and fall – from the larger view this is all just a passing ebb and flow. But we live here now, and we can find skillful ways to take action that will lead to less suffering.