September 30, 2019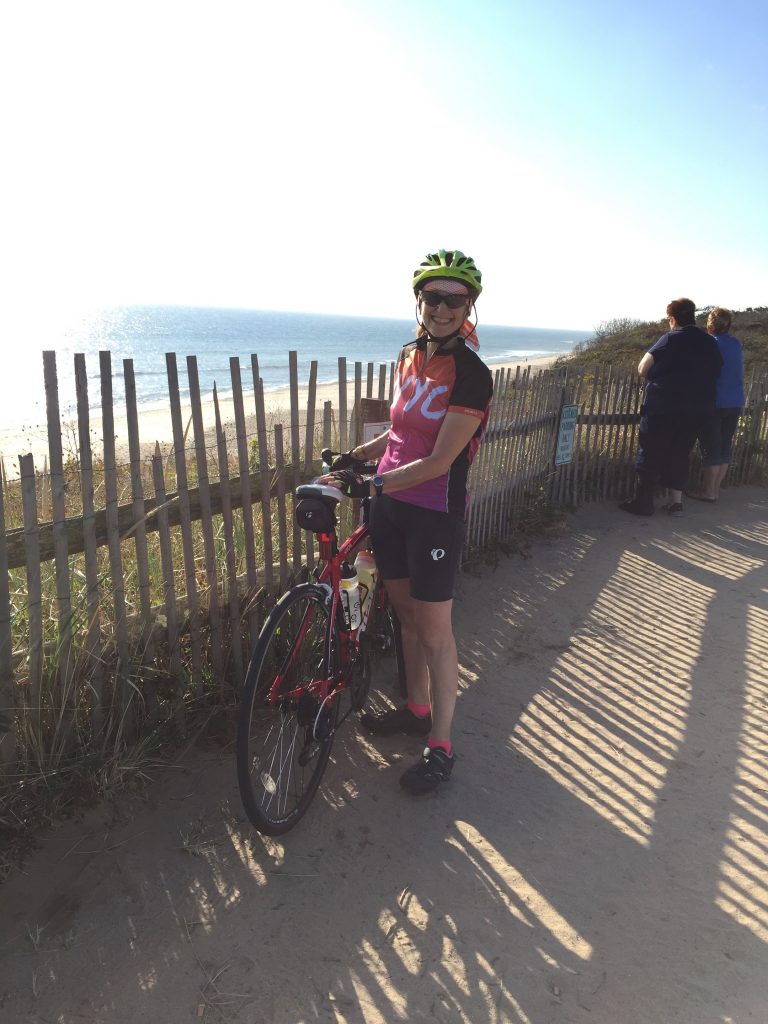 I have been hearing about the American Lung Association Bike Trek fund raising ride on Cape Cod from a number of my biking friends. Now that I don't have to sing High Holy Days at this time of year, I am finally free to do it. What a fantastic weekend! This was the 35th anniversary of the event. After miserable rain the past two years, the weather couldn't have been better: bright sun, 70 degrees, not much wind or humidity. Just perfect riding conditions.
I drove to Plymouth on Thursday and stayed over at the Blue Spruce Motel. Friday morning at breakfast I met the first of my new trekker friends who told me the Blue Spruce was a favorite pre-trek hangout. Many of the more than 350 cyclists this weekend had done the tour multiple times. The community was like a family who all knew each other and loved cycling together on the Cape every year. I came up alone, but had no trouble making new friends and feeling welcomed.
At 9am sharp Friday morning, with the assistance of the Plymouth Police Department blocking traffic, 350 riders set out from the Hilton Garden Inn for Camp Burgess in Sandwich, by way of Woods Hole and Falmouth – 62 miles. I had Ride with GPS calling out the turns, but the roads were well-marked and the route was easy to follow. We rode on some main roads and some back roads, walked our bikes over the Sagamore Bridge and made our way along the canal on a wonderful bike path. We also spent a lot of time on the Rail Trail that connects the lower and outer parts of the Cape. It was all so beautiful, and so typically Capey, even the areas that I didn't know that well, like Bourne, Mashpee, Barnstable, and Hyannis Port.
Rest stops with Gatorade and other yummy treats every 15 miles or so made the distance go by quickly. I also started riding with an interesting couple from Philly who were pleasant to chat with and set a great pace. It was a treat to ride through Woods Hole, Falmouth and Hyannis without all the summer crowds filling the streets and beeches. I felt great at the end of 62 miles when we arrived at our first camp for the night. More food, massages and relaxing by the lake in the sun made for a wonderful afternoon. By 8pm, I was ready to go to bed, and slept pretty well in the cool evening temperatures.
Saturday morning we set off by 8:30 and rode through parts of the inner cape that I didn't know very well. I stayed with my new friends from Philly and told them stories of my experiences on the cape from all different parts of my life. They told me about the Alpha-1 team they were part of, 90 cyclists strong from various medical and drug companies, supporting work on lung disease. So Interesting. At a rest stop in Chatham we intersected with a motorcycle crowd. They roared passed us, probably 50 or more of them, as we climbed the road past the lighthouse – a memorable experience but not my favorite part of the day! As we approached Brewster I started thinking about my parents who would be so happy to imagine me riding on these roads.
At the end of 58 miles we arrived at the Cape Cod Sea Camps campus. What a wonderful homecoming to a place where Emily and I had both spent many happy summers. After a well-deserved beer and a sleepy and relaxing massage, I had a face time call with Emily and walked from the bay to the Big House to share all the familiar places. I was assigned to Cabin 1 for the night – I think Emily lived there the summer she was 11. More time on the beach at low tide and a delicious outdoor shower rounded off the beautiful afternoon. At the lobster dinner in the dining hall, I chatted with Garran Peterson, member of the camp staff and son of the camp director. I remembered his mom, Nancy, from my camper days and he remembered Emily from his. I slept really well with all the warm memories from childhood.
Sunday morning we left even earlier, by 8. I saw my Philly friends across the crowded starting area, but never managed to connect with them. It worked out well because I ended up adding many detours to favorite places and stopping to take lots of pictures. It was less than 40 miles to Provincetown, by way of Coast Guard Beach, Nauset Light Beach, Newcomb Hollow Beach, Head of the Meadow Beach and beautiful bike paths through the National Seashore lands. The route also went on Route 6 and 6a through Welflete and Truro, roads I know so well. It was a bit overcast and windy today, and who knew that there were hills on this part of the Cape! I felt strong and took my time, wanting to savor every mile. I arrived at the community center in P-town by 11:30 – way too early for a beer. I delivered my bike to the truck that would bring it back to Plymouth, found my day bag and changed out of my bike clothes. I walked down the hill past the tower to Commercial Street and poked in shops, ate some fried clams and chowder and relaxed in the sun on the harbor beach. How comforting that everything is exactly the same as I remember it from years ago. It was nice to spend a lot of the day by myself, but I also connected with some of my new friends on the beach and in the bus on the way back to Plymouth. We were sad to say good by but hopeful to meet again when we all do this again next year.