Saturday, March 8, 2014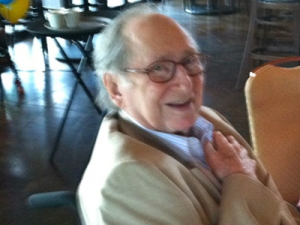 My Dad's passing was actually very peaceful and mercifully quick. At age 91, he had been having various non-life threatening issues over the past years and months, some related to his post polio syndrome – mobility problems, weakness in his limbs, swallowing problems, a little pneumonia, a little blood infection in his leg, a little bladder infection. Nevertheless he seemed to be enjoying his life at Stonebridge and could often be heard whistling merrily as he drove his scooter along the hallways. A fall in the apartment in January sent him to the hospital with no apparent injury to head or limbs, but this started a downward spiral in which all of the small things started to overtake his system.
Back and forth from the hospital to skilled nursing upstairs at Stonebridge, they kept doing tests and trying this and that, change his meds, put in a pace maker. I got to spend quite a lot of time alone with him as I made my way around in one snow storm after another, visiting him in the hospital or skilled nursing. He was pleasant and with it most of the time, not in significant distress. We talked about financial stuff and his new Quicken on the computer. We listened to Reneé Fleming sing the Star Spangled Banner at the Super Bowl. I was very moved that he shared some strange and interesting dreams with me, and other visions and mind states that seemed to be part of nearing death awareness.
Emily came to see him on February 12, before getting stranded in Philly by yet another snow storm. He was actually a bit agitated that day, fearing that his fraternity buddies were playing a trick on him and making everyone think that he was sick, when in fact he was really fine. This broke my heart. The next day, he was more at ease, and Michael actually made it over to see him after the snow storm, and they watched a football game together. The next day was his last and we camped out in his room playing Schubert, Mozart and Brahms on a tape deck. I thanked him for all that he taught me and all the ways I am like him. Michael and I both told him we loved him and he could relax and let go. It was Valentine's Day and he was alone with my mom in the afternoon when he finally stopped breathing.
March 8, Stonebridge had a lovely community memorial service at which we paid tribute to him and the others who had passed away in the recent months. My cousin Sarah, Jeff and the kids came down from Boston. Susanne was here from LA, Emily from Philly. It was a very warm family event.