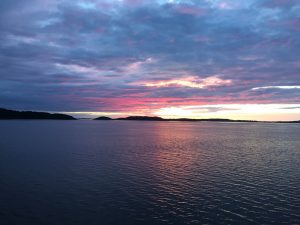 So after a few weeks of good health for all, and the promise of a relaxing summer, it all started again. Michael had an appointment the first week of June with his breast surgeon for a 12-month check-up. The day before he went, he felt a teeny, tiny something in the area of his mastectomy. But there was no more breast tissue there. What could it be? Probably nothing, said Rachel, the breast specialist, but we'll do a sonogram just to be sure. Humm, the sonogram looked a bit suspicious, so we should do a biopsy, just to rule out, you know, anything bad.
Michael and Jack were heading out to Montana again to try to have a better fly fishing trip than last year. But, once again, Michael was in that beautiful natural setting while waiting for results of a biopsy. Once again, I was home alone, doing a retreat schedule and considering my life as a widow. Halfway through the week the biopsy results came back positive. It was indeed cancer again. We would find out more at the appointment with Rachel when Michael came home. All sorts of crazy scenarios paraded across my mind like a suspense thriller movie. I tried watching it all come and go as I walked slowly in my back yard with the sculpture of a crane I had ordered from the shop in Bar Harbor we had visited last summer. Yes, last summer I had walked slowly on the rocks at low tide in front of our beautiful Maine cottage while Michael stayed in bed inside. A real crane had walked with me and it had been magical. I had ordered the sculpture as an anniversary present and a reminder of that beautiful day. At one point in this summer's retreat, the difference between those moments and these moments dissolved into an ever present now including everything. None are born or die, nor are they stained or pure, nor do they wax or wane, as it says in the heart sutra. Wow, a cool moment of clear seeing, but would it help me get through what was coming?
When we saw Rachel an interminable week later, she said it was the exact same kind of tumor as the one last year, but it was almost unheard of to have a recurrence in a man within a year. She scheduled a lumpectomy for July 7 and said we could most certainly go on our planned trip to Scandinavia on July 26. What??? During my retreat, I had come to accept that I would cancel my second study visit to Madison for the Well Being Study, and cancel the trip to the voice teacher conference in Stockholm. I did indeed cancel the trip to Madison so I could go with Michael to the doctor's appointment. I was sort of shocked to learn that we would be able to go on our northern adventure. Now I would have to finish my power point presentation, and Michael would have to manage the biking part of the trip somehow. The lumpectomy was an outpatient procedure and much less of a big deal than the surgery last summer. Michael felt mostly OK pretty quickly, but there just weren't enough days to exercise or go for a ride and build up some stamina and strength before we had to leave. More on the trip in the next post.
As we settled into the long eight-hour flight home from Stockholm, I actually let myself relax. That was premature. When we picked up Hugo from the kennel the day after we got home, he was not feeling well and had all sorts of tummy trouble for the next two days. I took him to the vet and came home with a bag full of meds and special instructions. A few days after that Michael noticed that one of his ankles was swollen. Long story short, I took him to the ER and came home with a bag of meds and special instructions. Somehow – on the long flight home? – he had developed a deep vein thrombosis, which could be easily treated with the blood thinners we had in our meds cabinet. Wow, we were so lucky it hadn't developed while we were out on an Island in the Baltic Ocean. We were so lucky he could start the blood thinners right away before anything really bad happened. But poor Michael. He has enough other body stuff to deal with. OK, add a vein specialist to the list of doctors' appointments in the last weeks of summer along with the oncologist and the radiologist. Michael's team decided that chemo was not recommended, but a six-week course of radiation was, and some other drugs as preventative maintenance. Once again he would start the school year dealing with cancer land. Is it easier the second time around? In some ways yes, but in other ways it has been challenging to stay patient and positive. Yet we have to just keep going and be grateful for each day.