Sunday, March 23, 2014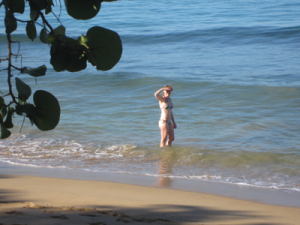 Thankfully, this trip was already planned long ago. Boy did we need to be on a beach in Puerto Rico for Spring Break! I had learned about the small cottage in the low key west coast town of Rincon from my ISPP buddy Jane. It was sort of a project to get there – renting a car and driving almost 4 hours in Saturday afternoon traffic from San Juan to Rincon. It was already dark by the time we arrived, but everything was in order in the well cared for cottage. After a great meal at a joint on the corner, and a trip to the market across the street, we were ready to settle in and do not much at all.
After my dad died, there was a lot for me to do as executor of the estate. Non of it was hard, but it was all time consuming, and since I had never done it before it was stressful to figure out what I needed to learn. This was in addition to taking care of my mom, who wanted everything done immediately. Also going on was the low acid diet, stressful to get used to, and the gum surgery, as well as regular teaching and trying to deal with my ailing voice and the new vocalises.
Most days in RIncon, I just sat on the patio or the beach and watched the waves pound the shore and let the wind blow some of my weariness away. After four days, I finally started to feel a bit lighter and actually felt like I could enjoy swimming in the waves and the beautiful view. We did some snorkeling at fantastic Steps beach, we drove around and saw the other side of the peninsula, and we cooked some great meals with fresh papaya and avocado (good for the low acid diet!) and drank pina coladas (not so good for the low acid diet!). Mostly we just hung out on our patio, or in the shaded yard, on the beach or in the water. It was very healing to just be there. On the way back to San Juan we stopped at Arecibo to see the radio telescope – cool. I hope we can come back here again!