June 11, 2018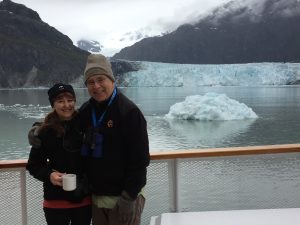 Today is our 35thwedding anniversary and we have been celebrating for over two weeks. Actually, there are many things to celebrate, including Michael's birthday and the end of the second cancer year. On May 24 we flew to Seattle for the beginning of our Alaskan adventure with Uncruise. After two days at the elegant Mayflower Park Hotel and some fun touristy walks around the city, we flew to Sitka to board the SS. Legacy for seven days of inside passage wilderness.
With only 75 passengers and over 20 very attentive crew, all our needs were lavishly met. Our cabin was comfortable, the food and open bar was wonderful, and the activities were varied and amazing. This was a perfect situation for Michael who was still regaining his stamina and strength after cancer year number two. We could each choose the level of activity we wanted, either more demanding, like sea kayaking and bushwacking, or more easeful like skiff rides and shore walks. Michael could take a nap in the cabin while I circled the decks with binoculars, or tried the stand-up paddle board. Our ship mates were interesting folks from all over. I became friendly with a woman from the mid-west who needed a kayaking partner. Her husband found himself on some of the more relaxing activities with Michael. I enjoyed hiking with several couples from New Zealand, and Michael befriended a physics professor who liked classical music. We also spent time with some representatives from the National Parks Conservation Association.
Oh, and did I mention the scenery and the wildlife? We saw grizzly bears on the beach and in the woods, we saw sea lions and sea otters, harbor seals and a pod of whales bubble feeding, and more eagles flying than we could count. The snow-covered mountains rising up from the sea in the narrow fiords were breathtaking in every direction, and the glaciers in Glacier Bay National Park were an awe-inspiring highlight of the trip. The expedition leaders were all incredibly knowledgeable whether they were describing plants and animal tracks as we bushwacked through the rainforest jungle, or pointing out birds and mountains from a kayak or the deck of the ship. They were always available to answer questions and enhance our experience of the wilderness with more stories and details. We also had Amy Gulik, nature photographer and writer, on board the whole week, and Ranger Katie with us for the whole day we spent in Glacier Bay. We were filled with a wealth of sights, sounds and stories.
As we disembarked the ship in Juneau, so sad to leave the wilderness and our new friends, two eagles were circling just overhead. We looked up and shrugged – more eagles, ho hum… Back home, we celebrated again at a music department party at Wendy Heller's house to honor Michael's 40 years at Princeton. We are so lucky and thankful to have made it to this point in our lives.