October 10. 2017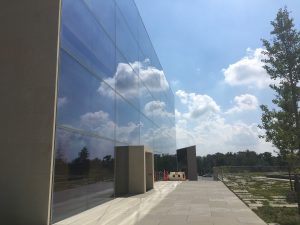 At long last the new music building in the Lewis Arts Complex is ready and the university celebrated with a weekend of festivities and special events to inaugurate all the new rehearsal and performing spaces. The theatre and dance departments brought in famous special guests from outside the university community. The music department showcased all our in-house talent, featuring faculty and student performers from the orchestra, glee club, jazz ensembles, as well as Richardson Chamber Players, So Percussion, Plork, new music by the Sound Kitchen faculty and grad student composers and more in performances that took place all over the campus.
I was happy not to be performing, but I did sing along in the chorus for the community reading of Beethoven's Choral Fantasy that took place in the new state of the art Lee Rehearsal Room. My voice actually remembered how to sing it from Marlboro days and I was pleasantly surprised that I had a great time at the event. Michael was in the middle of six weeks of radiation, so he wisely let his assistant, Ruth Ochs, have the honor of conducting, while he sang in the bass section of the chorus. He did have to lead the orchestra in the Magic Flute Overture in a mash up gala concert in Richardson. The beauty of the music and the happiness of the event helped him through.
Most of the vocal activities have stayed in Woolworth, the existing music building in the center of the campus. All I had to do was move my books and posters around the corner into another, larger, teaching studio. The orchestra, Jazz ensemble and other instrumental faculty moved into the new building, near MaCarter Theatre and the train station. Michael is thrilled with his new office and rehearsal space. After 40 years of feeling like a second-class citizen to the musicologists and composers, he now knows that the new buildings finally demonstrate that the university values the contribution of performers.
The new music building doesn't have an official name yet, so I have decided to call it Hughey, to go with Dewey and Louis – three little ducks surrounding a lovely reflecting pond. Dewey is for the dance building, and Louis is for the Lewis Center for the Arts Tower with administrative offices and classroom space. I'll try to get the students to go along with the nick-names and hope they catch on.