Monday, July 20, 2015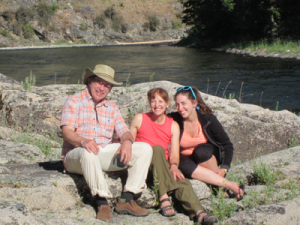 This summer we were invited to visit Michael's old Eastman buddy, Michael Coren, while he was in residence at the Vail Festival with the Dallas Symphony. We decided to combine Colorado with a return to Idaho and the Middle Fork of the Salmon River. It was another journey of discovery and healing, grieving and recovery.
We spent three wonderful days with Michael and his wife Sarah in their luxurious condo overlooking the Eagle River. We hiked the Wilder Gulch trail our first day there and made it to the top at 11,700 feet despite mild altitude sickness – headache, dizziness, gasping for breath. (Good thing I didn't have to audition for anything the next day like in the old Aspen Music Festival days!) It had been a wet winter in Colorado and the trail was overflowing with wildflowers and gurgling streams. We enjoyed delicious meals, great conversation, and a forgettable Mozart Requiem and 4th of July pops concert (great fireworks from their balcony). We weren't really there for the music festival after all.
After saying our goodbyes, Michael and I set off for Utah and Idaho in our extremely expensive rental car. We were keeping it for two weeks, and we upgraded to coverage for a second driver and a V6 engine to help with the mountain roads. All in all it was worth the larger than expected cost. The drive west from Vail was thrilling through the mountains and canyons leading to Grand Junction and the Palisades. We stopped at the Colorado National Monument and spent a few hours hiking around the dramatic cliffs which mark the start of the carved formations that culminate in the Grand Canyon. We wanted to stop at Arches National Park as well but we didn't really have time and warnings of extreme heat – over 100 degrees in the middle of the day – dissuaded us. We'll have to do it on another trip. We continued onto Salt Lake City to meet daughter Emily who was flying in from Philadelphia. Emily was between relationships and we decided to invite her to join us as we returned to Stanley, Idaho for another rafting adventure. She was delighted to accept.
After an easy night at an airport hotel, we decided not to tour the Mormon Tabernacle before we headed north towards Idaho, but we did stop at Craters of the Moon National Monument. What an indescribably strange and wonderous place! We drove the loop road and got out to walk all the different trails around and through the volcanic lava flows – cinder cones, caves, blue dragon, and beautiful wild flowers poking out of this seemingly barren and lifeless landscape. The National Park Service does an incredible job presenting and preserving so many beautiful places. It was easy to spend a few hours there and still arrive in Ketchum by dinner time. We enjoyed exploring Ketchum and Sun Valley – Emily already has visions of bringing her Pennsylvania Ballet Company to a festival out here – and even had time for a short hike in Adams Gulch the next day before making our way over Galene Pass and into Stanley.
It was great to watch Emily's eyes widen when she saw the Sawtooth Mountains, and even more fun to see her jaw drop when she got to Stanley. We had told her about it – population 63, one grocery store, one gas station, the PO, bakery, saloon and fishing tackle store on one dirt road. She hadn't quite believed us. We enjoyed the hot springs at Mountain Village Resort, a great supper at Bridge Street Cafe in Lower Stanley, and then we met our fellow river rafters at the orientation meeting at River 1 Outfitters. We were going with Hughes River Expeditions again and we recognized two of the guides, Tony and Aaron, who remembered us from our last trip with them in 2013. Back at our motel room, we repacked all our stuff into the dry bags provided and then enjoyed a drink on the porch as we watched an evening thunderstorm pass through town.
The next morning was cool and foggy as we boarded the yellow school bus for the bumpy ride to the Boundary Creek put in. It had been a dry winter in Idaho, and we were lucky that we were still able to raft the top 25 miles of the river. The water was low and we scraped along the rocks and got stuck a number of times on that first day. The week before had been unusually hot so we were grateful for the cloudy, cooler weather and afternoon thunder storms. Yes, we were cold and wet most of the time, but it was better than baking in the hot sun of the previous heat wave, or the heat of NJ all of June and July!
I wasn't really feeling all that social after the ordeal of my mom's last months and all the busy work that followed. I went off to sit and walk by myself a lot in the mornings before breakfast and before dinner. Mostly I enjoyed being with Emily and Michael, but of course we did get to know the other folks on the trip very well. Our traveling companions included a three generation family from Georgia – parents, two boys and the 80 year old grandfather, a family of parents and a young son from Robbinsville NJ, another set of parents from DC with an adult daughter and boyfriend from Oregon, and another couple traveling with a single woman friend. It turned out she was a cabaret singer from LA whose husband had recently died unexpectedly. She was on a healing journey with her friends. We bonded immediately, and though neither of us really wanted to talk about singing or our recent losses, we did share the unpredictable grieving process. We let it flow like the river, sometimes calm, sometimes rocky, and sometimes we got thrown around by crazy rapids.
Since the days were cool and wet, I wasn't really inspired to go in the water, though it was much warmer than it had been the last time we came. Emily tried the inflatable kayak one afternoon and did really well. I also wanted to kayak again and redeem myself for wiping out on the last trip. That was not to be. After a stop at the Flying B Ranch, the sun was out and the air was warm and I asked if I could try the kayak. The guides said sure – the rapids coming up were nothing more than what we had already managed…..long story short, we got to Haystack, the raft went to the left of the big rock, I misjudged the flow of the water and didn't make it around to the left, but got pulled over to the right and hit the rock and spun around. The two kayaks following me got into the same trouble and we all collided and two of us flipped over. Ok, I'm in the water, breath, stay calm, hang on to your kayak and keep your feet pointing down stream. Yikes, the rapids kept going and I had to navigate around many rocks as Haystack turned into Bernard. I heard Aaron's reassuring voice behind me even as I was making my way over to the left bank. (That's what the stunt men do in the movies after all!) I rescued myself on a rock near the shore and Aaron retrieved my Kayak, and somehow had my paddle in his raft. I really stayed very calm during the whole thing – yes, I'm a strong swimmer – and only got upset later. I even got back in my kayak and continued successfully on through Earthquake Rock and Jack Creek Canyon rapids.
After we got home to NJ, I was amazed and tickled to read in Joseph Goldstein's book One Dharma, that he had also been on a rafting trip on the Middle Fork of the Salmon. In teaching about working with strong emotions, he described how he got flipped out of his inflatable kayak and sloshed about in a rapid: "Mindfulness is like wearing the life vest. The emotions still come, but we are protected from drowning in them." HA! So I was in good company. The guides were actually pretty low key about it – "yeah, that happens at that spot a lot" said David, though Aaron seemed pretty impressed at dinner that night when he described how I had stayed calm and rescued myself. I had to use a lot of mindfulness as my mind replayed the event over and over during the next few days and nights – just let the powerful energy swirl, stay relaxed, give it space and let it wind down by itself. In this moment everything is fine and these are just thoughts. Yes, I have had a lot of practice with this over the past year. Being out in such a beautiful natural space helped a lot as well.
The rest of the trip was wonderful and it was fun to watch Emily, the only younger single woman in the group, interact with the River Gods as she called the guides. They were really amazing athletes, wonderful cooks and hosts, and their love for this river inspired us all. As we got back to civilization – well Stanley first – we said a sad goodbye to our new friends and sent Emily back to Boise with the Purdue family from GA. Michael and I stayed on another two days for several more beautiful hikes (no car trouble this time thankfully) and we savored our remaining time in the wild open spaces of the west.
In the Boise airport, waiting for our flight home, I suddenly realized that with all the commotion of the winter and spring, I hadn't thought past this trip. I had no idea what came next. I also realized that there were no parents waiting in NJ to hear about our adventures. I felt the weight of this pull me down and I cried the whole way from Boise to Denver. My life jacket helped me resurface, however, and I was ready for whatever rapids would come next. Back in my bed at home, I dreamt about the river every night, and missed my tent where I knew exactly where every item was that I needed, even in the dark.