Thursday, June 25, 2015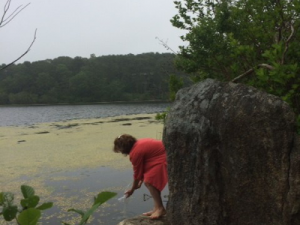 Today is my parents anniversary and they are both gone. Michael and I just returned from Rhode Island and Cape Cod where we took my mom's ashes to rest in her favorite places. It was just a year ago on Father's Day that we buried my dad's ashes in the Temple Beth-El cemetery in Providence. Now, once again on Father's Day, we gathered with friends and family to reunite my mom with my dad in that lovely spot. Except this time it was pouring!
Since her diagnosis of acute leukimia in January, my mom did remarkably well all the way through April. She enjoyed her hospice aide for 2 hours a day, she got dressed and went to dinner in the dining room at Stonebridge several nights a week, cared for herself independently and maintained her razor sharp wit and talkative energy. She even came over to my house for Passover and made fried matzah for Emily on Easter morning. She was miserable inside though, cranky and ready to be done with it all at age 93. Thankfully, she was mostly herself until the day she died on May 6. And, thankfully, her most uncomfortable days were few, and hospice allowed her to stay in her own apartment, in her own bed until the end.
She had specifically asked for no service or luncheon as we had had for my dad, but her friends insisted, so we arranged to gather on another Sunday in June. It was torrential downpour until about five minutes before everyone was supposed to arrive. That was my mom saying "See, I told you not to have an event for me!" The non ceremony was brief in the remaining drizzle and we retired to Twin Oaks Restaurant, about two blocks away, for a lovely lunch.
After saying goodby to all the relatives – when would we ever see some of them again? – and dropping Emily at the airport to fly back to Philly, Michael and I set off for the Cape. We arrived in time to stop by Nauset Beach in Orleans and enjoy that particular beauty the beach has at dusk after a storm.There weren't many people at this hour and we easily found a secluded spot to sprinkle some ashes onto the wet sand and watch them disappear into the surf. The next morning, after a delicious night at The Old Manse Inn in Brewster, we drove over to Blueberry Pond and found a trail leading to a sheltered spot right across the water from where our house was. I remember climbing on these rocks as a kid as I explored the wild shores of the pond in our canoe. This was a perfect spot to leave the remaining ashes. My mom loved her Cape House and she loved Nauset Beach.
It was a sweet and sad time on the Cape and I am filled with many conflicting emotions as I process the loss of both parents, but regret is not one of them. I know I did the best I could to be present and kind, patient and supportive. There was nothing else to do, is nothing else to do, but open to the way things are.