March 10-20, 2023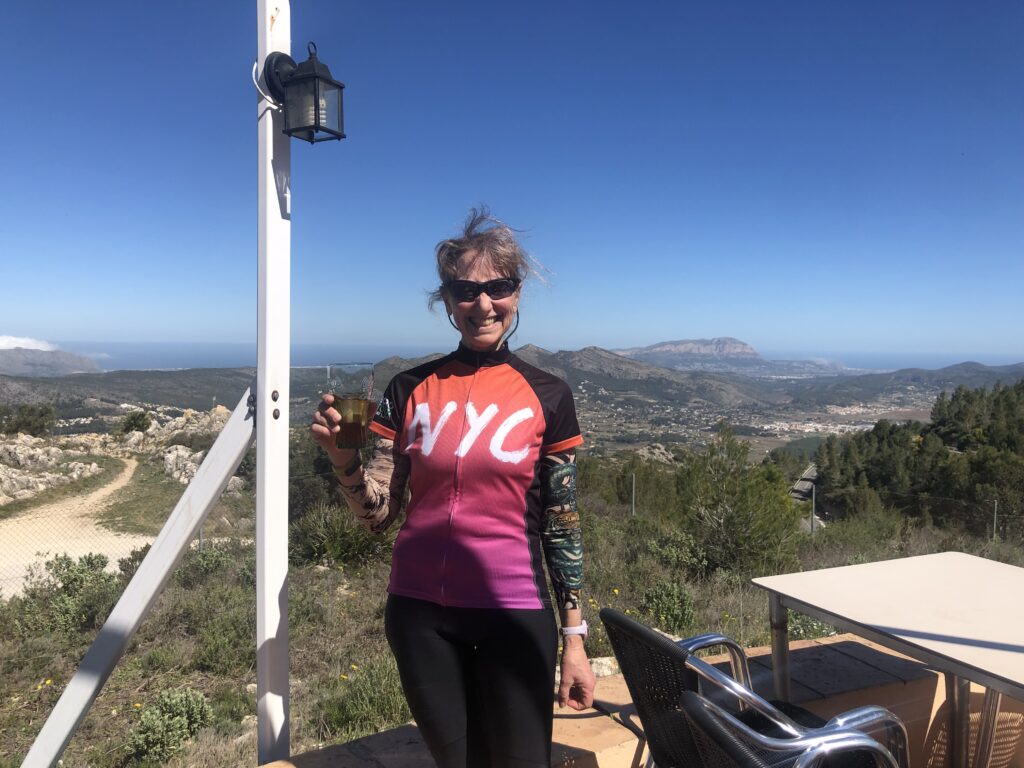 I learned about this trip a few days before I was leaving for Maui for a month. It seemed crazy to make plans for another adventure, but the dates were perfect during Spring break, a lot of my bike friends from Morris Area Freewheelers would be going, and you couldn't beat the very inexpensive price, so I put down a deposit. Emily would be accompanying Michael and the PU Orchestra on tour to Sofia, Belgrade and Budapest, and the pet sitter we had for Maui was available again to stay with Louie. After three years of not traveling at all, I guess it was time to start making up for it.
I flew from Newark to Alicante via Brussels and met up with other members of our MAFW group on the shuttle bus to Denia. For this Peoples Cycling fixed base tour, we stayed at a popular cycling hotel with breakfast and dinner included. The rooms were fine and the food was plentiful, like a Las Vegas buffet, and while the quality was modest, it was an incredible deal for $800 for the whole week. The leaders of the trip were a British couple, Marjorie and David. Riding a tandem, they often took off at a good clip, so even though I had ride with GPS voice cues for the routes, I always worked hard to stay with them so I wouldn't get lost.
We rode about 50 miles each day. The routes were fantastic once we got into the countryside and out of the morning traffic of Denia. The area is apparently a famous winter training ground for pro cycling teams, and we saw many peletons of hard bodies wearing matching kits. We passed by miles of orange groves heavy with fruit, and dormant vineyards waiting to wake up to spring. We peddled well known climbs into the mountains and zoomed down by the Mediterranean coast. The weather was perfect, bright blue sky and 65 degrees, perfect for riding. The terrain was a fascinating combination of tropical beach with palm trees and fruit orchards, and craggy mountains with cactus and dessert landscape. It reminded me of Tuscon or southern California. No wonder the Spanish settlers felt at home in the American southwest. The schedule was mostly relaxed and leisurely. Leaving the hotel at 9:30, we would ride for 15 miles and stop for coffee for an hour, then ride a while more and stop for lunch for two hours – not what our crowd is used to, but hey, it's Spain – so for a 50 mile ride the moving time would be 4 hours and the stopped time would be 4 hours. I loved it all and felt strong and comfortable on my rented road bike.
After riding five days in a row, we gave up day six in favor of a bus trip to Valencia for the famous Fallas festival which was going on this week. Part religious observance, part crazy art competition, the city was full of hundreds of thousands of people who came to see the huge cartoon sculptures made of paper maché, and march in the parades dressed in traditional 18thcentury costume to deliver flowers to the virgin. Yes, it was crowded and overwhelming but an experience like nothing else. And we managed to have a quiet lunch of wonderful Paella before getting swamped by the crowds leaving the fireworks display. I was so grateful to the members of the group who had figured out all the arrangements, and after a long day, we made it safely back to Denia.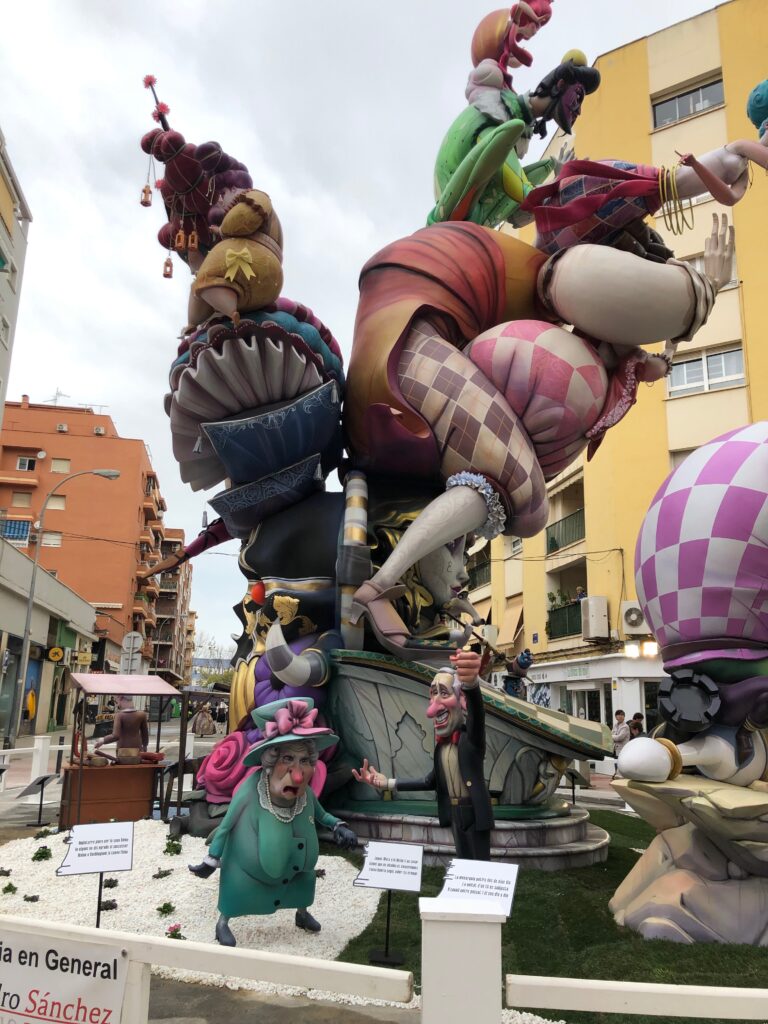 The next morning, some of us flew to Barcelona and stayed two nights in a lovely hotel right near the Ramblas and the Place de L'Universidad. We split up and had a day and a half to explore the city on our own. I had a lovely walk to the Miro museum and then met up with some of our group for a fantastic meal at a wonderful tapas restaurant in the old quarter. The next day, Sunday, I went to church at the Cathedral in the old quarter and heard a wonderful consort group sing during the service and a great band play in the plaza after the service. After more walking to the Park Guell and the Gaudi sculpture garden, which was unfortunately sold out when I got there, I met some of our group for a tour of the Gaudi Cathedral and then more wonderful tapas right near the hotel to end the day. The next morning, we got to the airport for our direct flight back to Newark. I did wear a mask whenever I was inside, but I felt much more relaxed and comfortable traveling overall and managed to go and come safely without getting sick – a fantastic trip!