December 18, 2022 – January 15, 2023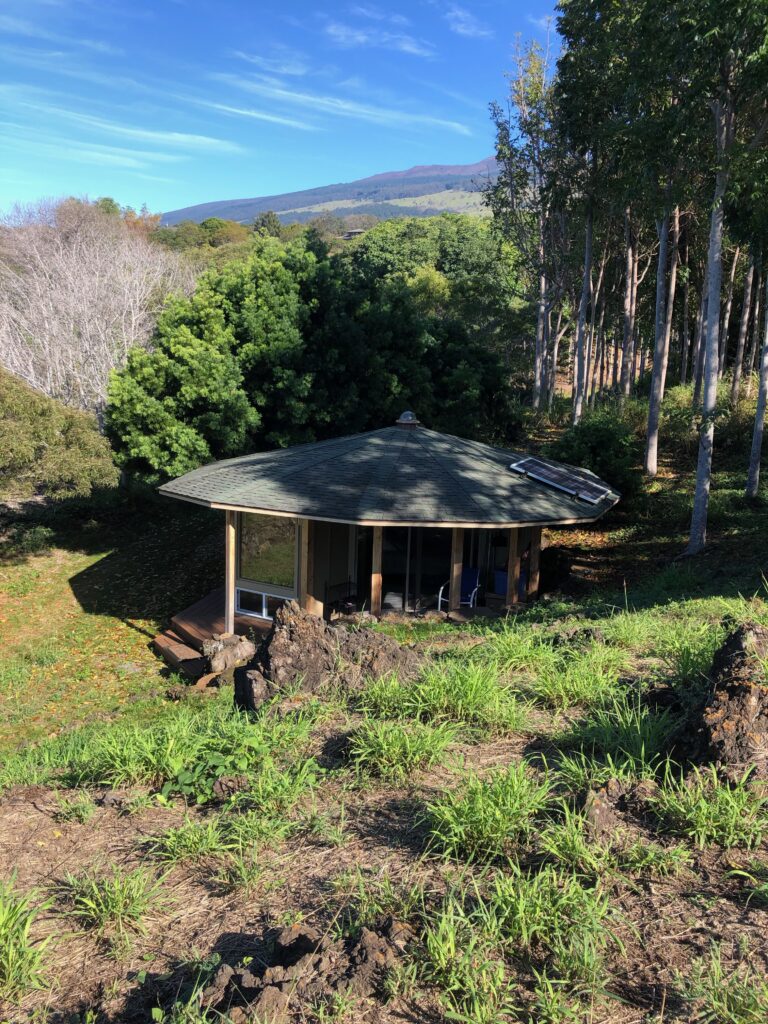 I am writing this a number of months later, so the experiences have settled and softened. I have practiced with meditation teachers Steve Armstrong and Kamala Masters for almost 20 years and have always wanted to visit their retreat center on Maui. With all of Michael's health issues, it has been challenging to find a time when I could be away for a month, but December/January looked like it would work so I made the reservation last June and hoped for the best. As the holidays approached, everyone was healthy, including Steve, who was doing miraculously well five years after a glioblastoma diagnosis. Michael, Emily and I planned a family vacation for 4 days before my retreat. We arrived on Maui in a terrible rain-storm that diverted planes and cancelled flights. Luckily, we landed safely and stayed in a beautiful condo near the beach in Kihei. We only had one good swimming day after the storm, but we did a lot of driving around the Island and visited our old Princeton friend Maida Pollock. She had retired to her son's farm in Kula, which was, amazingly, right down the dirt road from the retreat center! Michael and Emily went on to spend Christmas on the Big Island at Volcano National Park, and I started a monthlong retreat in Paradise.
The sanctuary could host five practicing yogis. We each had our own private solar powered hut and shared use of "the watershed" a small building with self-serve kitchen, shower and flush toilet. We all sat together in the beautiful hall at 8am and 6:30pm each day, and met with either Steve or Kamala every other day for a private check in and teachings. A delicious gourmet meal was served at noon time, and after a brief ceremony of gratitude, we each took our food away to eat separately. Certain COVID precautions were in place to keep us distanced from each other, especially for the first five days after we arrived. Since we spent most of the time outside and on our own anyway, it was easy to relax and feel safe. I was used to this kind of self-directed practice and very quickly settled into an extremely contented state. The weather was basically perfect, low 60, high 72, with soft caressing air and gentle breezes. The views of sea and mountains from my Stone Circle hermitage were spectacular, as were the sunsets. The varied bird songs enchanted my ear, flowering trees perfumed the air, exotic tropical fruits fresh picked from the orchard delighted my taste buds, stars and moon at night completed the feast for all the senses. Walking barefoot on the soft grass was a special delight with no tics and no poison ivy! It was all so extremely pleasant that it actually became quite overwhelming. I learned a lot about grasping after the pleasant and the suffering nature of clinging. With such an extended period to practice, I could see the difference between going out after the sense object – "Oh that tastes sooooo good!!!!" "The sunset is sooooo beautiful!!!" "Where is that bird and what kind of bird is it????? I want to see you singing!" and just receiving the sense input with equanimity – "it tastes like that, it feels like that, it sounds like that…"
After getting concentrated, and resting in awareness, I had an experience of no one walking on no ground, just sensation being known by awareness. It was somewhat unsettling, but Steve and Kamala were incredibly supportive at helping me navigate the balance of the relative and the absolute. "Did you make breakfast this morning? Did you get here for your appointment? You can function in the world even as you see no ground and no you. You're actually doing really well, don't worry, we won't let anything bad happen to you." Wow, how incredible to feel held and protected like that. One morning near the end of my time there, I briefly slipped into a place where awareness didn't take an object at all and any sense input just stopped. There was no thing at all, just empty and still. Steve and Kamala were both very interested in this experience. I wasn't sure what to make of it. I didn't find it scary or wonderful, but I didn't really want to stay there either, preferring to get back to the familiar world of sense input. Kamala said I had to come back and stay longer next time! I hope I can.